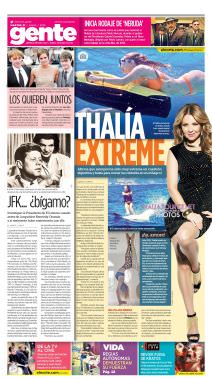 Mexico City (July 21, 2015) - She's going to the extremes, at least with regards to sports activities, because Thalía enjoys the challenges of the sea, mountains and snow.
In her vacation in Italy, the singer gave an interview in which she speaks of liking the experience of total freedom with her hobbies.
"I've always been very extreme on my taste for the sport and in life in general," says Thalía exclusively.
The singer enjoyed the summer in Sardinia, accompanied by her husband Tommy Mottola and her two "Amore Mio", as she refers them to her social networks their children Sabrina Sakaë and Matthew Alejandro.
Before, the Mottola Sodi family spent time relaxing in Aspen.
"I really like mountaineering, mountain climbing, scuba diving, skiing on virgin snow and practice sports"
She clarified that her love of water sports are not new, since as a teenager, but not exactly on an island in Italy.
"I'm a child of the 'Teques' of the 80s. I learned (Waterskiing) as a teenager in Lake Tequesquitengo (in Mexico)" she says.
"Every weekend we were going with my friends and I ski all day."
But besides practicing water sports the 43-year old entrepreneur surprisingly preserve her slender body and her tiny waist, although she has been a mother twice.
Also a yoga lover, former Timbiriche was asked about the secret on keeping that little waist.
"I do not know the measurement, but I do know that it is a miracle that it still survive to my way of eating for a lifetime", expressed in this interview via e-mail.
"I am also 'extreme' when it comes to eating!" She responds before ending the comment at the end of a smiley face.
This 2015, Thalía will have a special celebration, because on December 2 she will celebrate 15 years of her marriage to Tommy Mottola.
"We will do something nice to celebrate our 17 years of being together, and what is best to do it is with our children. He and I are not separated from them even for a moment, let alone in such a wonderful time," she says.
The success of their marriage is based on respect and love, but especially in the acceptance.
"Acceptance, period. Understanding the personality of each other and love it, respect it and not wanting to change it. I think what makes the difference is also a real commitment to inject that every day to the relationship. There are no shortcuts."
Besides her work in music and as a businesswoman, Thalía is also in the movies, with the Minions film, which premiered in Mexico two weeks ago.
She gives voice to the villain Scarlet Overkill in the Spanish version (Latin America), so she says there are several reasons why the public should see.
"It is an opportunity to laugh and enjoy with family and friends. The Minions are those characters which we can learn lessons from practical and simple life," she adds.
"They have taught me to have a more relaxed attitude to life, to look on the bright and funny side of circumstances, whatever they may be, and above all, to learn to laugh at myself and not take things so personal".