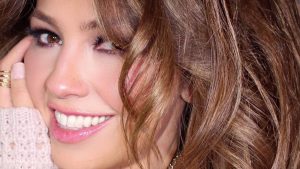 The Mexican singer Thalía combines the present and the past in her new album Latina, which shows as the woman who she is today and recover her roots and sound "more Latina than ever".
The artist, who has merged her latest production in the urban and tropical, the mariachi and vallenato, wants to show her most current version while the music recalls what she "heard in my neighborhood".
"It's like introducing myself as what I am today, the woman in which I have become, but also retaking my roots, the music I hear in my neighborhood, growing up in my neighborhood, as these rhythms are ours, as Latinos coming out through the windows", Thalía said in an interview.
According to the artist, the word Latina has been internationalized since her career is very "attached" to it.
And the Mexican could only understand "latina, Mexico, music" in the headlines of the foreign media who wrote about it.
"It is a very organic title that was given to us, without thinking", says Thalía, who has more than a quarter century in the music industry.
In addition, the wife of music mogul Tommy Mottola noted that the title of this album comes at a time when Latin American culture is "booming" and people want to "listen to our proposals and opinions."
"We are the preference of the world at this time in an undiscovered form", the artist said.
Ariadna Thalía Sodi Miranda, known as Thalía, believes that this new album leaves a visible mark of her identity, "the duality between the romantic and sensual", which she says is what her audience want in her music.
The album, which is released on May 6, which has a single with Maluma Desde Esa Noche, in which combines the urban sound with the Mexican trumpet and the Colombian accordion.
This single stems from that the Mexican needed to have an "accomplice".
"This song I asked a man who is singing to me and telling to him. As if we were both in a ping pong of a love story", the artist explains, who in her album also features other collaborations such as OMI, Silvestre Dangond, De La Ghetto and Jacob Forever.
In relation to these duets, the singer, who on previous occasions already collaborated with bachatero Romeo Santos and Pedro Capó, confessed that they "emerged without looking for them" in a very natural way.
The album, which has an international production, was recorded in countries like Mexico, New York, Colombia, Miami and Greece among other, places where they found "authentic sounds".
Continuing her explanation, in addition the Mexican shows her excitement with her new album, she announced that the album has an "amalgam" of sounds, colors and textures that make it "different, cheerful and positive."
To the question of whether there is an evolution after 13 studio albums behind her, the voice of Me faltas Tú or Mujer Latina did not want to make comparisons, noting that her work "were always controversial, each in its own style".
"Everyone at that time who came out broke barriers", the native of Mexico City noted.
On a personal level, Thalía, who just over 8 years ago was diagnosed with Lyme disease, shared a few weeks ago with her Instagram followers that she had suffered a small setback, but said she is "stable and well".
Aware of the importance of this disease, find any "excuse" to talk about it and to educate people as well.