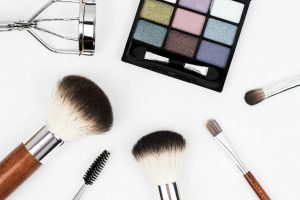 Every professional was once a beginner- even the greatest make-up artist started out with zero knowledge. If you're being curious about experimenting with make-up for the first time, here are some ideas!
1. Great make-up starts with great skin. Moisturizing and prepping your skin before applying make-up is a must, as is applying primer to make sure you get a smooth application and to ensure your make-up stays on longer. To learn how to prep your skin for make-up during winter, click here.
2. If you'd like to start playing with lipstick, or try a bright color, try a tinted lip balm first before committing to a lipstick.
3. If you're new to foundation and/or don't like the way regular foundation feels, you can try a tinted moisturizer, which will provide lighter coverage than foundation.
4. If you don't like wearing much make-up but still want to look polished, I suggest you take the time to fill in your eyebrows, as they frame your face, making you look more put-together instantly.
5. Get the right brushes to create your desired look. I recommend throwing away all the plastic applicators that come with the make-up. Invest in a good set of brushes, as they will make your make-up go on with more pigmentation and it will make blending much easier.
6. Don't be afraid to use an eyelash curler, even though they look intimidating! If you don't like wearing mascara you can curl your lashes to make your eyes look bigger and more awake.
7. Don't forget to have make-up remover and cotton swabs handy, in case you need to erase any mistakes.
8. Watch YouTube tutorials of girls with similar complexion and face shape so you can learn new make-up looks. And remember to have fun with your make-up!
If you want to know which products I use, check out what's in my makeup bag!